Eagle Land Services' oil and gas and energy attorneys are experienced in traditional and urban oil and gas and energy law.
Eagle's legal team supports all types of leasing transactions and contract negotiations.
Their broad experience covers every aspect of an energy transaction on behalf of operators, property owners, lessees, purchasers, sellers and developers. Today, owners and lessors are more informed, and legal involvement is increasing on both sides of the transaction.
Eagle integrates its land and legal services so that information and personnel are readily available to render accurate and timely opinions and to execute agreements quickly. Good decisions being made faster and more accurately than the competition… that's The Eagle Advantage.
Eagle also provides complete real estate closing services to include preparing and/or reviewing the Agreement of Sale through settlement, in all aspects of commercial and residential real estate, sales transactions and refinancing.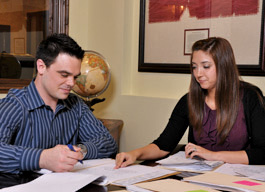 Operators and Producers:
Original Drilling Title Opinions
Division Order Title Opinions
Pooling Agreements
Joint Operating Agreements
Acquisition and Divestiture
Gas Contracts
Pipeline Easements
Farm-in/Farm-out Agreements
Mineral and Royalty Owners:
Lease Review and Negotiation
Amendments
Title Research and Curative
Titles and Conveyances
Division Orders